Keep Your Data Safe in Austria – With next layer CLOUD BACKUP!
Using CLOUD BACKUP, you can encrypt your data from physical servers, virtual servers, and workstations and easily back it up to next layer's certified and highly secure data centers.
Try CLOUD BACKUP free for 30 days!

Do you run your own virtualization infrastructure but also want to safely store your data in an external backup? We can provide you with the perfect solution in the form of VEEAM CLOUD CONNECT. You can easily back up your data to high-availability storage systems at one or more of our data centers via end-to-end encrypted connections. This gives you multiple advantages:
SSL-secured connection
Transmission can be accelerated using optional data compression
Clear and transparent control over data access and recovery
Maximize cost efficiency – adjust the amount of space you need for your data
Our years of hosting experience, our highly developed metro network, and secure data center locations in Austria (and in the EU).
next layer backup servers operate exclusively within Austrian data centers and are therefore fully GDPR-compliant. Your data is safely stored in encrypted form and is always available for data restoration. Data is transmitted as encrypted transmissions via your existing Internet connection. next layer can also optionally set this up for you – such as in the shape of a dedicated, pure Ethernet connection independent of the Internet. The benefits speak for themselves: You can get everything from one provider – software, storage, and data line. This guarantees high-quality service!
High data security: Your data is backed up on a redundant system – it can even be spread across multiple data centers on request. All our data centers are ISO27001 certified with multiple redundant connections.
Easy scalability – backups range from Client PCs to Office365: With us, you can extend your virtual infrastructure backup to include backups of physical servers, Windows and Linux client PCs, and you can protect yourself against Office 365 data loss (which is not covered by Microsoft) and reduce the time it takes to search for and recover email data.
Scalable backup infrastructure – from small to complex: Avoid investing large sums of money in hardware you will need to maintain. Instead, use other people's hardware and only pay for what you use. This means you don't have to worry about the size of your backups. Simply run the backup, and our specialists will take care of the rest!
Take the strain off your internal resources (no more "juggling" removable storage devices): Moving tapes from a data center to a safe or another location is a thing of the past. Manage your backups easily using the Veeam Backup Console. Data transport is encrypted "end-to-end", and your completed Cloud repositories are displayed in your backup infrastructure.
Trust is good – but you're in control: You can directly access and restore your data in the next layer BACKUP CLOUD using the Backup Console. This also applies to Office 365 users who do not want to rely solely on Microsoft support. You'll keep your expenses under control thanks to round the clock access and data consumption overview.
Back up large amounts of data: One significant advantage of using next layer's VEEAM CLOUD CONNECT is that we run the data centers and the line infrastructure. This means you can control your SLAs from your data center to the next layer BACKUP CLOUD. Our network can handle up to several 100 Gbit/s.
In the event of a disaster, VEEAM CLOUD CONNECT provides you with recovery times of under 15 minutes using inexpensive and efficient image-based replication. Full or partial site failover only requires a few mouse clicks via a secure web portal – normal business operations are quickly restored.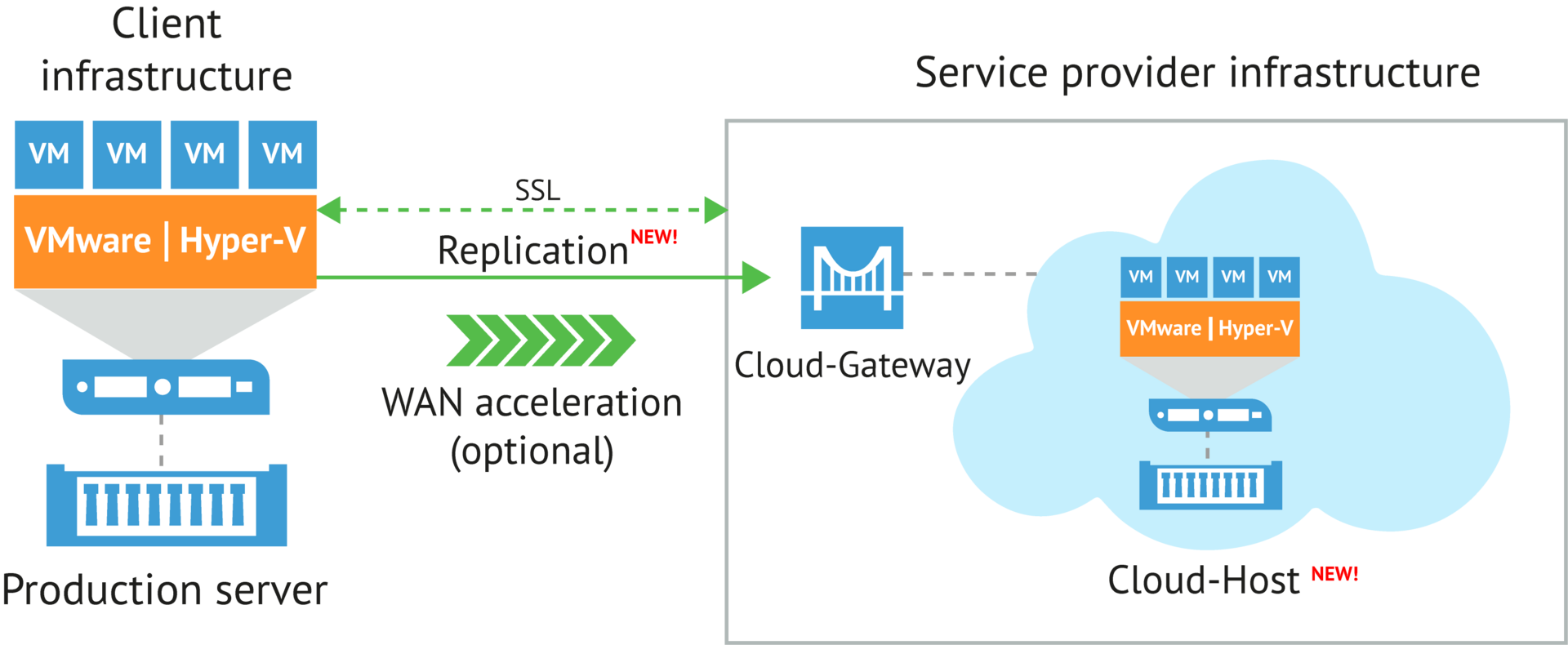 Any business that needs to back up data from servers, workstations, or laptops on a regular basis benefits from a data backup. next layer's CLOUD BACKUP guarantees protection against the loss of business-critical data.
next layer provides you with the necessary licenses, ample data storage in our data centers, and data lines with high bandwidths. All you need to do is install a small app on your system (server or PC/laptop) and configure the backup according to your preferences. We are happy to assist you if you need any help with this.
You can choose between two types of licenses:
Veeam Cloud Connect Backup for if you want to back up data from your company or on-site workstations to the next layer data center
Veeam Backup & Replication is used exclusively for servers or virtual machines that are operated in next layer's data center. This backs up entire virtual machines or virtual data centers. Depending on the number of features you need, we distinguish between Standard, Enterprise, and Enterprise Plus licenses.
The price is based on your required monthly licenses and the used or reserved storage. Here are three examples:
Backup for two local virtual servers with 100GB of storage: 18.00 EUR per month
Backup for two local physical servers with 250GB of storage: 33.00 EUR per month
Backup for 5 workstations/notebooks with a total of 500GB storage: 45.00 EUR per month
Try CLOUD BACKUP free for 30 days!
Let us help you back up your data end-to-end. We will design a data backup plan specifically for your company and provide the software, storage, and necessary licenses. Try CLOUD BACKUP now – free for 30 days!
Have we sparked your interest?
If you have any specific questions or would like a quote based on your unique requirements, please do not hesitate to reach out to us. You are welcome to send us an e-mail to sales(at)nextlayer.at or call us at +43 5 1764-622. We look forward to hearing from you!